PEP-010, first therapeutic product being developed for the treatment of advanced solid tumors.
PEP-010 is a first-in-class therapeutic peptide based on PEP-Therapy's innovative Cell Penetrating and Interfering Peptides (CP&IP) technology.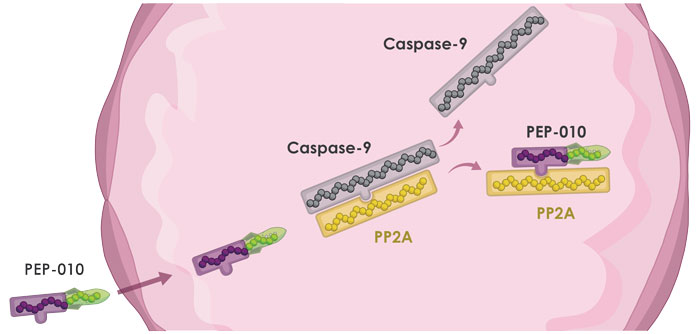 PEP-010, PEP-Therapy's lead product, dissociates the interaction between Caspase-9 and PP2A, two key proteins in the apoptotic pathway. Caspase-9, when released, can be activated, restoring normal apoptosis (physiological cell death) in cancer cells.
PEP-010 comprises two features in a single peptide:
Cell-Penetrating part, to deliver the active peptide into the cellular cytosol;
Interfering part, blocking Caspase-9/PP2A interaction.
PEP-010 demonstrated a good safety profile and anti-tumor efficacy in multiple preclinical models and has shown to inhibit tumor growth in breast and ovary Patient Derived Xenograft (PDX) tumor models by up to 85%.
Additive effect of PEP-010 in combination with chemotherapies were also observed.
PEP-Therapy and Institut Curie have been granted approval from the French National Agency for Medicines and Health Products (ANSM) to start first-in-human clinical trial of PEP-010 for the treatment of advanced solid tumors.

Based on the proof-of-concept on its lead product, PEP-010, PEP-Therapy develops a product pipeline based on its CP&IP technology.