PEP-Therapy and Institut Curie are conducting a first-in-human clinical trial of PEP-010 for the treatment of advanced solid tumors and in particular Triple-Negative Breast Cancer (TNBC) and Ovarian Cancer (OC). The clinical trial (NCT 04733027) is a dose escalation trial (Phase Ia) with an expansion phase (Phase Ib). The study will also be conducted at two other clinical oncology centers, Gustave Roussy and the François Baclesse Center.
The trial is led by Professor Christophe Le Tourneau, Medical Oncologist at Institut Curie and Head of the Department of Drug Development and Innovation (D3i), and Principal Investigator of the trial. Named 'CleverPeptide', it is an open-label, non-controlled, multicenter clinical trial.
PEP-010 is a first-in-class therapeutic peptide based on PEP-Therapy's innovative Cell Penetrating and Interfering Peptides (CP&IP) technology.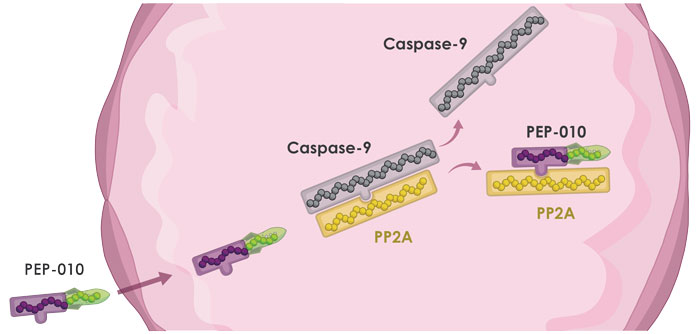 PEP-010
, PEP-Therapy's lead product, dissociates the interaction between
Caspase-9 and PP2A
, two key proteins in the apoptotic pathway. Caspase-9, when released, can be activated,
restoring normal apoptosis
(physiological cell death) in cancer cells.
PEP-010 comprises two features in a single peptide:
Cell-Penetrating part, to deliver the active peptide into the cellular cytosol;
Interfering part, blocking Caspase-9/PP2A interaction.
PEP-010 demonstrated a good safety profile and anti-tumor efficacy in multiple preclinical models and has shown to inhibit tumor growth in breast and ovary Patient Derived Xenograft (PDX) tumor models by up to 85%. Additive effect of PEP-010 in combination with chemotherapies were also observed. Publications are available upon request, please contact us.
Based on the proof-of-concept on its lead product, PEP-010, PEP-Therapy develops a product pipeline based on its CP&IP technology.